ALIVER consortium members were present at the International Liver Congress™ (ILC) 2017, where  ALIVER Project Investigator, Prof. Rajiv Jalan presented information on both artificial and biological extracorporeal liver assist devices. All extracorporeal devices were present at the ILC 2017 Skills Learning Centre.  At The Skills Learning Centre, delegates were given the opportunity to ask questions and closely examine devices used for procedures under the tutelage of experts in the field. This new activity was presented in a relaxed and friendly atmosphere during which delegates talked with experts and asked an array of questions related to the practice of interventions in patients with liver disease. The devices and methods presented at The Skills Learning Centre included:
Artificial
PLASMA EXCHANGE
MARS
DIALIVE
Biological
Rationale for extracorporeal liver support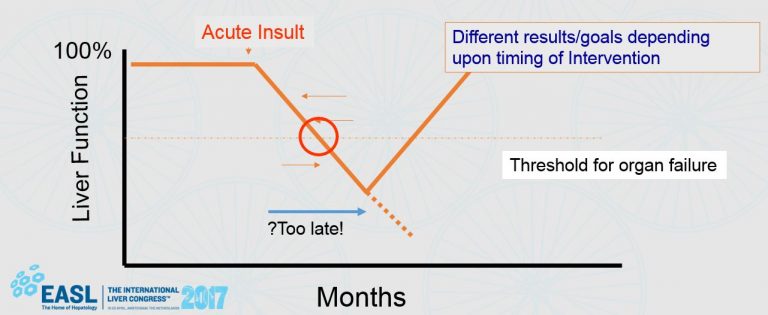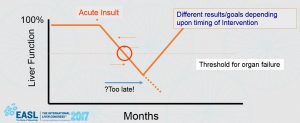 Fig. 1 – Potential for reversibility
Prof. Jalan explained that liver failure, whether of the acute variety with no pre-existing liver disease (acute liver failure (ALF)) or an acute episode of decompensation superimposed on a chronic liver disorder (acute on chronic liver failure (ACLF)), carries a high mortality. An ideal liver support system would provide many of the normal functions of the liver, be easy to use in clinical practice, have minimal complications, and not be prohibitively expensive.  During his presentation, Prof. Jalan noted that so far, the bioartificial liver systems have failed to live up to their initial promise and currently cannot be recommended for the treatment of patients outside of carefully controlled clinical trials.  Jalan et al. Gut (2004). "ALIVER is an opportunity to alter the course of the disease and a chance to change the patients' outlook on life," Prof. Rajiv Jalan, ALIVER Project Investigator.
A great time for devices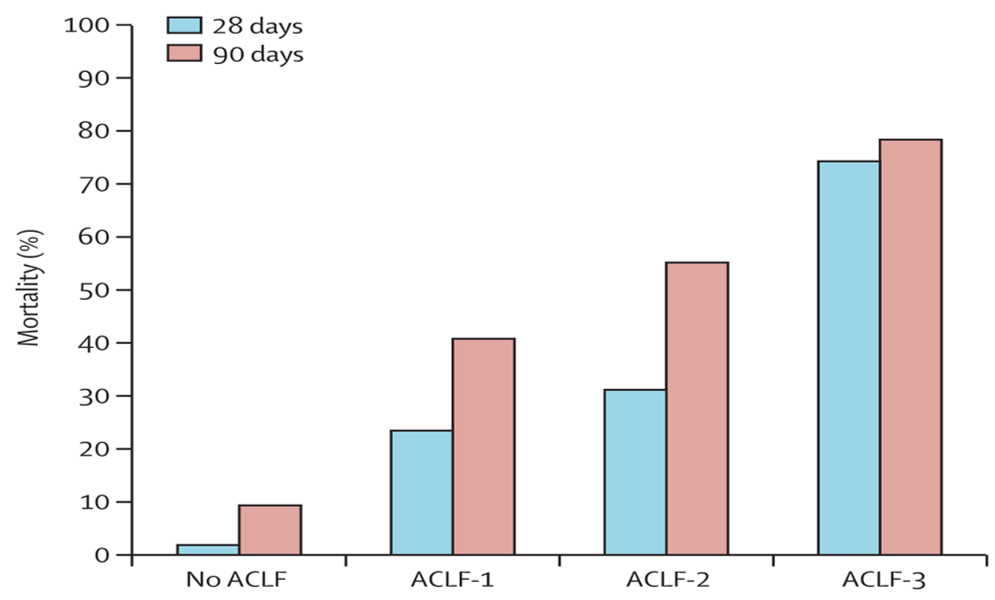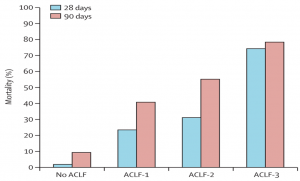 Fig. 2 – Mortality rate at 28 days and 90 days according to the grade of ACLF
Acute on chronic liver failure (ACLF) is a syndrome in patients with chronic liver disease with or without previously diagnosed cirrhosis characterized by acute hepatic decompensation resulting in liver failure (jaundice and prolongation of the international normalized ratio), and one or more extrahepatic organ failures, that is associated with increased risk for mortality within a period of 28 days and up to 3 months from onset Jalan, et al. Gastroenterology (2014).
To learn more about the ALIVER project's extracorporeal liver support device (DIALIVE), click HERE.
At the 2017 International Liver Congress™ in Amsterdam, The Netherlands, the European Association for the Study of the Liver (EASL) announced the EU funded project ALIVER. The €7.8 million project is funded by the EU Horizon 2020 research programme. Work started on ALIVER on 1 January 2017 and will end on 30 September 2020.
Background
Each year over 170,000 people die from liver cirrhosis in Europe. There are over 1 million deaths globally. 29 million EU citizens and 650 million people globally suffer from a chronic liver disease. The economic burden of liver disease in Europe has been estimated at over €15.8 billion per annum.
The causes of liver disease are complex, but current rates of obesity and other lifestyle factors will lead to increasing rates of liver failure in coming years. The only treatment that will ensure long-term survival and quality of life is a liver transplant. Despite efforts made across Europe to increase organ donation, the number of patients requiring a liver transplant is increasing and supply is not keeping up with demand. There are currently over 1,500 patients on the Eurotransplant waiting list for a new liver, and many more in other countries of the EU who are not members of the Eurotransplant network.
The response
The ALIVER Consortium has developed a novel and innovative liver dialysis machine that will help the liver to naturally regenerate or, where that does not prove possible, to keep patients alive and healthy until a donated liver becomes available. DIALIVE has been demonstrated to be effective in pre-clinical tests.
How is DIALIVE different?
DIALIVE removes dysfunctional albumin and endotoxins, infuses fresh, functional albumin and specifically targets systemic inflammation using commercially available CE-marked filters in one unit. Existing liver dialysis machines do not restore albumin function, have only a limited effect on systemic inflammation and do not improve survival rates.
What happens next?
The DIALIVE machine will be tested in clinical settings in the UK, Germany, France and Spain over the course of the project. The ALIVER Consortium believes that DIALIVE will:
Significantly improve the prognosis of patients with liver failure by targeting systemic inflammation
Reduce mortality rates for patients admitted to hospital with liver failure
Allow patients in intensive care to return home with fewer readmissions to hospital
In those that don't recover, provide a bridge to transplantation
About the Consortium
Two universities, four hospitals, two foundations and four industrial partners will work together to deliver DIALIVE. The consortium members are:
University College London
Yaqrit Limited
Fakkel BVBA
European Foundation for the study of chronic liver failure
Albutec GMBH
European Association for the Study of the Liver
Assistance Publique, Hopitaux de Paris
Service Madrileno de Salud
Universitätsmedizin Rostock
IBM Ireland
Royal Free Hospital, Royal Free Hampstead NHS Trust, London
Commenting ahead of the ALIVER meeting that took place at the ILC 2017, Principle Investigator for the Project, Professor Rajiv Jalan, said, "We are delighted to be launching ALIVER here in Amsterdam with EASL. The project brings together scientific excellence in liver disease, clinical practice, and industrial partnership, with EU funding. This is the future of medicine and health research and there is no better place to launch ALIVER than here at the EASL ILC."
"Patients with severe liver disease don't have good treatment options today. The DIALIVE technology is the first breakthrough for many years designed to fill that gap in patient care," said Daniel Green, CEO of Yaqrit Ltd, an industrial member of the ALIVER consortium.