fineanddandy
29th July 2019
1051
Acute-on-chronic liver failure in patients with alcohol-related liver disease
The intensive care unit course and outcome in acute-on-chronic liver failure are comparable to other populations
The prognostic value of acute-on-chronic liver failure during the course of severe alcoholic hepatitis
Liver transplantation in patients with multiple organ failures: Feasibility and outcomes
Prevalence and short-term mortality of acute-on-chronic liver failure: A national cohort study from the USA
Multidrug-resistant bacterial infections in patients with decompensated cirrhosis and with acute-on-chronic liver failure in Europe
Class III obesity is a risk factor for the development of acute-on-chronic liver failure in patients with decompensated cirrhosis
Incidence, predictors and outcomes of acute-on-chronic liver failure in outpatients with cirrhosis
Liver transplantation in the most severely ill cirrhotic patients: A multicenter study in acute-on-chronic liver failure grade 3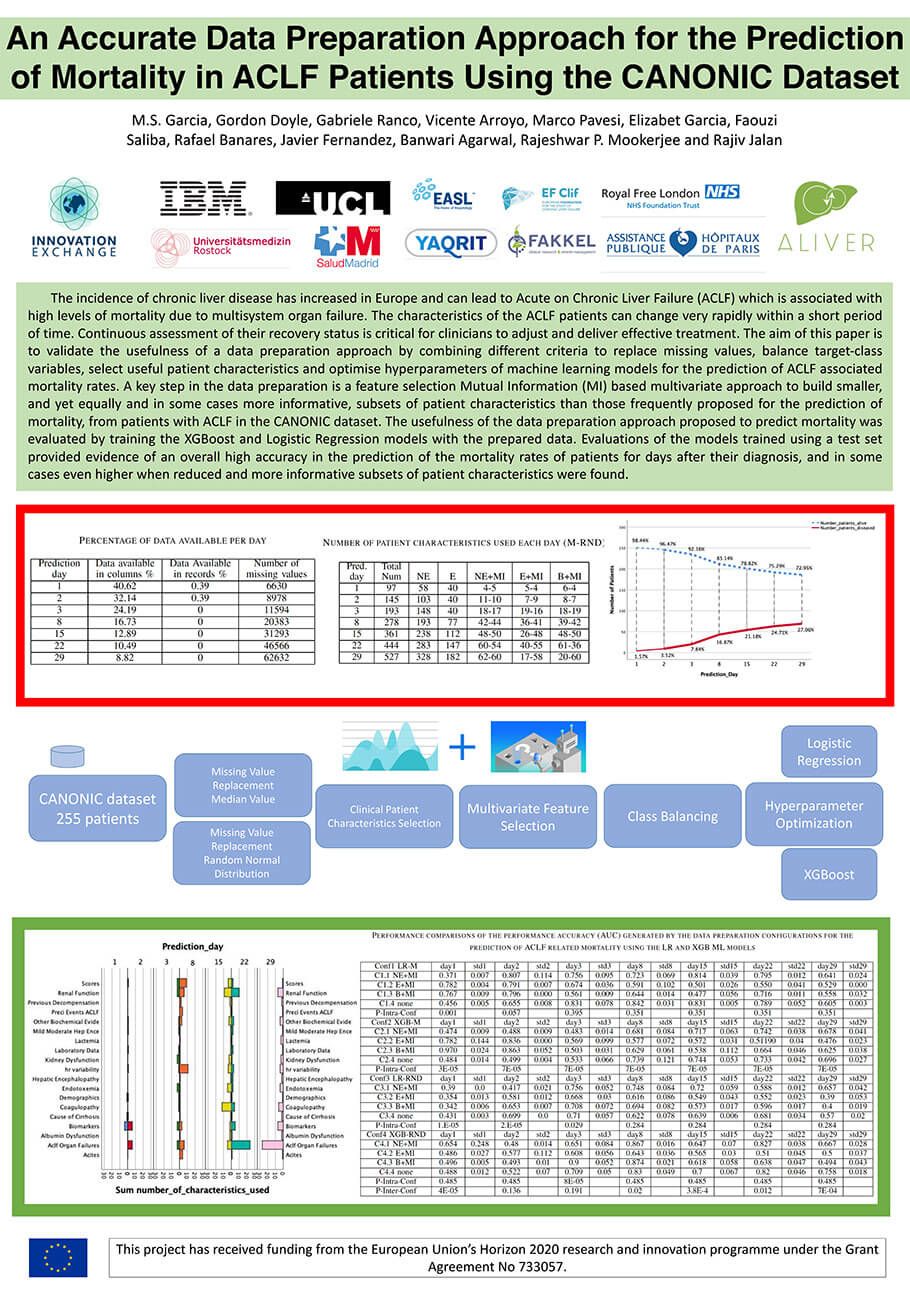 DIGESTIVE WELLNESS 170,000 people in Europe die from liver failure every year. The cirrhosis death toll could be cut from 2020, thanks to advanced dialysis technology being trialled in the UK and Europe now.
Many people with liver disease do not see it coming until it's too late.
Millions of people around the world are unaware they have liver disease, which may be nonalcoholic steatohepatitis (NASH), nonalcoholic fatty liver disease (NAFLD) or even cirrhosis.
"In the UK, 0.5% of the population have cirrhosis, the scarring of the liver that is the end-stage of liver disease, but 75% of them do not know," says Rajiv Jalan, Professor of Hepatology at the Institute for Liver and Digestive Health, Division of Medicine, at University College London and Honorary Consultant at the Royal Free Hospital.
Many people find they have cirrhosis when they enter hospital for something else
"Every year in the UK, 50,000 to 100,000 people go to hospital because of accidents, infections, over-drinking, or for surgery, and discover that that they have cirrhosis," says Jalan. "About 20-30% of them develop acute-on-chronic liver failure (ACLF) and multi-organ failure, which may affect the brain, the heart or the immune system. This carries a 30% risk of death within four weeks.
"You can go from walking around with no idea that you are at risk to your deathbed in just four weeks."
At present, treatment centres on supportive care for the failing organs – including dialysis. The only potential cure is a liver transplant – and there is currently a shortage of donated livers. Every year 170,000 people in Europe die from liver failure.
New dialysis machine uses liver's regeneration properties
However, the liver can regenerate itself – and a new dialysis technology, now being trialled, takes advantage of that.
Jalan says: "If we can get over the two- to four-week period when the patient is at high risk of death, and prevent more damage to the liver, it will start to repair itself."
Jalan is the project coordinator of the ALIVER project, which is trialling a new dialysis machine, called DIALIVE. An advance on existing dialysis technology, it uses two specialised filters to remove blood-borne products of liver failure such as products of cell death, toxins from bacteria and metabolic toxins, which traditional dialysis machines do not.
It also replaces the albumin that is depleted or destroyed when the liver fails.
Jalan says: "This could keep the patient alive long enough for the liver to regrow or for a transplant donor to be found."
The DIALIVE technology was invented at UCL and is being developed by spin-off company Yaqrit. The €7.8 million ALIVER project, funded by the EU Horizon 2020 research programme, runs until 2020.
Current trials for liver disease will see results next year
DIALIVE is being trialled in several hospitals across Europe, and its benefits are being compared to the standard of care. "Initial results are due in 2019 and if they are positive, a larger study will go ahead later in the year," says Daniel Green, CEO of Yaqrit. "This technology has the potential to save the lives of liver patients who are at a high risk of short-term mortality."
Meanwhile, Jalan points out that risk factors for liver diseases include obesity, over-drinking and liver diseases such as viral hepatitis, and says: "Ask your GP for a liver function check."
http://www.healthawareness.co.uk/digestive-wellness/new-liver-failure-treatment-could-be-here-by-2020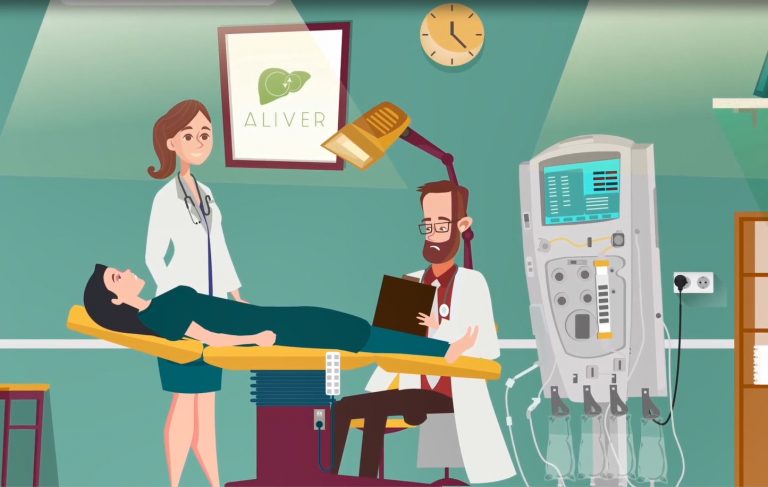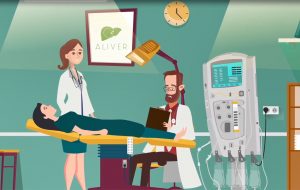 11 April 2018, Paris, France: An animated short-film produced by the ALIVER consortium titled "Life After Liver Failure", premieres tomorrow morning at the BioTech Village in The International Liver Congress™ 2018. The ad was developed in order to raise public awareness about the challenges of liver failure and liver cirrhosis. The ad highlights the innovative DIALIVE technology, a novel 'liver dialysis device' which after 25 years of research is undergoing two clinical trials which will assess its safety and efficacy.
The incidence of liver disease is increasing and it can lead to liver failure. An estimated 170,000 patients die from liver failure each year in Europe. During liver failure, an accumulation of protein-bound toxins and increased susceptibility to infection cause multiorgan failure and death. Liver transplantation is the only treatment, but it is limited by organ availability.
ALIVER is a project that has received funding from the European Union's Horizon 2020 Research and Innovation Programme under grant agreement number 733057.
For more information contact:
Hyatt Antognini-Amin
press@easloffice.eu
www.aliver.info
November 15, 2017, London, UK  – Today the European Commission published a press release covering the ALIVER project. The article, "Saving lives with a new liver dialysis device," was also shared by Dods Information Service via their inter-parliamentary newsletter.
To read the full article, visit: ec.europa.eu
September 28, 2017, London, UK – The ALIVER project today, was featured in the National Digestive Health Campaign launched by Media Planet. The aim of the campaign is to raise awareness, provide insightful and informative content and break the stigma around digestive health issues in the UK. The campaign will focus on current research breakthroughs and developments in prevention, diagnosis and treatment solutions. It will also provide insight into future opportunities for innovation within these areas. The campaign will be targeted towards clinical commissioning groups, health care professionals, university students, patients and the general public. Project Coordinator, Dr. Rajiv Jalan was interviewed for the editorial titled: New dialysis technology could cut cirrhosis deaths, where he discussed the project, DIALIVE technology, and the impact liver dialysis could have on the global population.
The editorial is also available in print and will be included as a supplement in The Guardian.
To read the full article available online, visit: MediaPlanet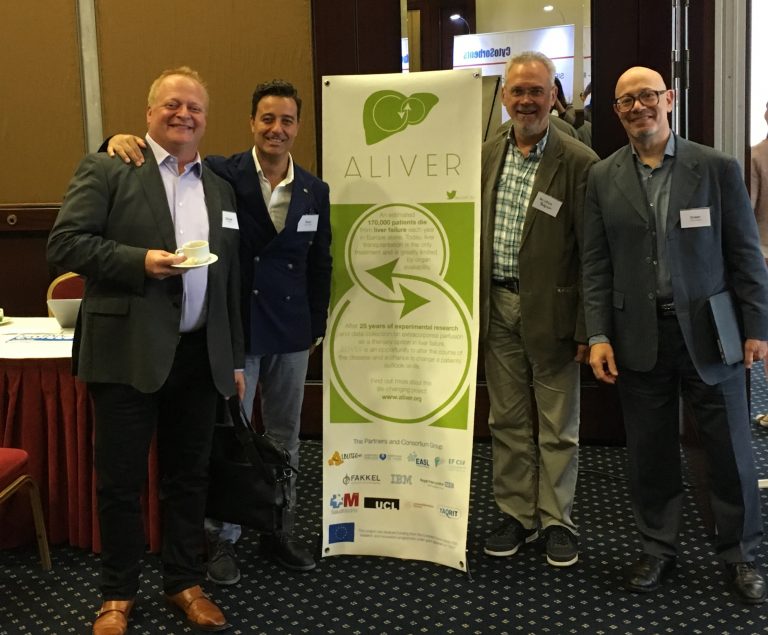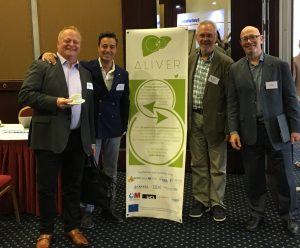 The 18th edition of ISAD convened over 100 clinicians, researchers, scientists and industry professionals from around the world at the Yachthafenresidenz hotel in Rostock-Hohe Düne, Germany from 8-9 September 2017. The conference examined liver support therapies for hepatic recovery in the environment of secondary organ failure.
Conference hosts Professor Steffen Mitzner, and Professor Jan Stange warmly welcomed attendees on the evening of the 8th at the reception, along with members of the Albutec GmbH team.
"We are proud that this symposium has evolved from an albumin dialysis meeting to a more comprehensive meeting on liver support technologies available not only in the intensive care unit but now also in standard dialysis within hospital units and even in ambulatory centers," said Prof. Steffen Mitzner, President, Department of Medicine, University of Rostock.

Dr. Banwari Agarwal from University College London (UCL), presented the ALIVER study on the 9th and discussed detoxification and endotoxin removal combined in acute on chronic liver failure (AoCLF). This year's conference sponsors included ALIVER consortium partners: Albutec GmbH, EASL on behalf of the ALIVER project, and Yaqrit, the creators of DIALIVE.
London 24 July 2017
The first patient in an international trial of a new liver dialysis system has been recruited at the Royal Free Hospital in London. The device, called DIALIVE, was invented by scientists and doctors at University College London (UCL) and Royal Free London NHS Foundation Trust. The principles behind DIALIVE are based on recent advances in the understanding of the mechanisms underlying liver failure, a condition that affects about 200,000-300,000 people every year across Europe. This patient group treated in the trial has a greater than 25% likelihood of death within a 28-day period if they do not undergo a liver transplant.[i]
Twenty-four patients will be included in this first trial, which is aimed at establishing DIALIVE's safety and performance. It is being conducted at seven centers across Europe: London, Birmingham, Nottingham, and Edinburgh in the UK, Rostock in Germany, Paris, France, and Madrid, Spain. A second trial that plans to enroll more than 100 patients across Europe is already being designed. That study is scheduled to begin in 2018 and will include patients at another 18 widely distributed European referral hospitals for liver diseases that are part of the European Foundation for the Study of Chronic Liver Failure (EF-Clif) consortium of hospitals.
"Many patients with liver failure are relatively well until the time they present to the hospital": said Professor Rajiv Jalan, the Coordinator of the ALIVER project and an inventor of DIALIVE at UCL. "Within a matter of 28-days, about 25% of these patients will die with multi organ failure. Given the huge regeneration potential of the liver, many can recover," he said. "DIALIVE removes toxins that accumulate in liver failure to prevent inflammation. It has the potential to allow the liver to regenerate."
Prof Jalan added: "The Horizon 2020 EU grant and the collaboration with the leaders in the field will allow us to further develop DIALIVE for benefit of liver failure patients".
Dr Banwari Agarwal, who is a Consultant Intensivist at Royal Free Hospital is the Chief Investigator for the trial.
Today's standard of care for this patient group is multi-organ support in the intensive care unit. Many patients require a liver transplant, though the shortage of donor organs means this is often not possible. There are currently over 5000 liver transplants per year in Europe, more than 1,500 patients are on the Eurotransplant waiting list for a new liver, and many more in other countries of the EU who are not members of the Eurotransplant network[ii].
The 24-patient ALIVER study is funded by a €6.4 million EU Horizon 2020 grant 733057, awarded to a consortium of 11 institutions from seven countries in Europe, including Yaqrit Ltd, a spinout company from University College London that is developing the DIALIVE device and IBM Ireland Ltd, which will be applying data analytics to identify new biomarkers that can help to optimise treatment protocols.
The DIALIVE device was invented at UCL and is based on the principle that bacterial products (toxins) from the gut enter the blood in patients with liver disease, and trigger a damaging immunological and inflammatory response. DIALIVE is designed to remove these toxins from the blood and replace damaged blood albumin with fresh albumin to increase the body's natural defenses against bacterial toxins allowing the liver to regenerate. If the results show a successful outcome, Yaqrit Ltd. will seek regulatory approval for DIALIVE in 2019/20.
###
Contact
For more information, please contact:
Professor Rajiv Jalan (UCL); Coordinator of the EU H2020 grant.
Email: r.jalan@ucl.ac.uk
[i] Acute-on-Chronic Liver Failure Is a Distinct Syndrome That Develops in Patients With Acute Decompensation of Cirrhosis Moreau, Richard et al. Gastroenterology , Volume 144 , Issue 7 , 1426 -1437.e9
[ii] Eurotransplant data base. Available at: http://statistics.eurotransplant.org/index.php?search_type=waiting+list&search_organ=liver&search_region=by+country&search_period=2017. Last accessed 31 March 2017.
On 8-10 September 2017, the 18th ISAD conference will take place in Rostock-Hohe Düne, Germany. This year's conference title is "Rebalancing Hepatic Recovery and Secondary Organ Failure Progression".  Members of the ALIVER consortium will be present and Banwari Agarwal (London, UK) will present 'Detoxification and endotoxin removal combined in AoCLF – the ALIVER-EU study'.  To find out more, view the conference programme: ISAD2017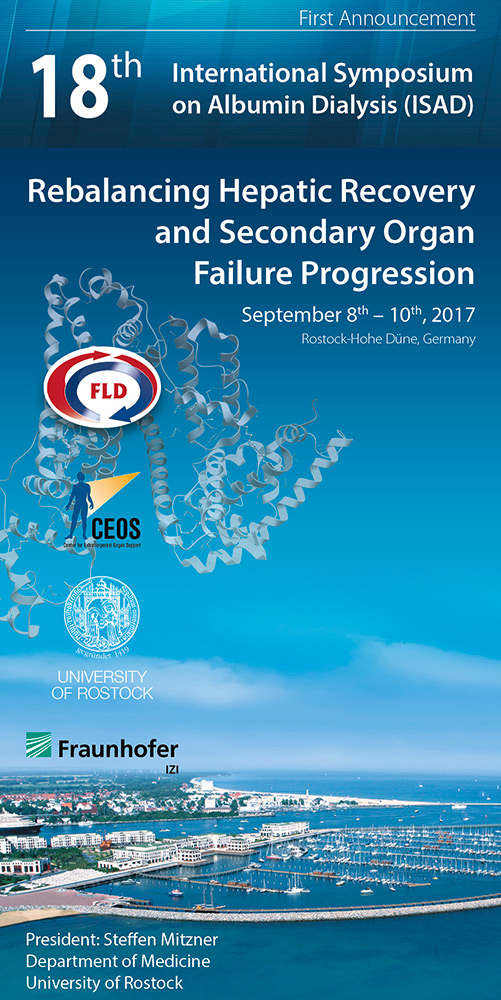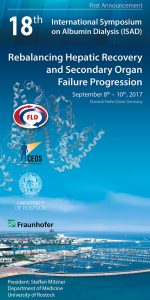 ALIVER consortium members were present at the International Liver Congress™ (ILC) 2017, where  ALIVER Project Investigator, Prof. Rajiv Jalan presented information on both artificial and biological extracorporeal liver assist devices. All extracorporeal devices were present at the ILC 2017 Skills Learning Centre.  At The Skills Learning Centre, delegates were given the opportunity to ask questions and closely examine devices used for procedures under the tutelage of experts in the field. This new activity was presented in a relaxed and friendly atmosphere during which delegates talked with experts and asked an array of questions related to the practice of interventions in patients with liver disease. The devices and methods presented at The Skills Learning Centre included:
Artificial
PLASMA EXCHANGE
MARS
DIALIVE
Biological
Rationale for extracorporeal liver support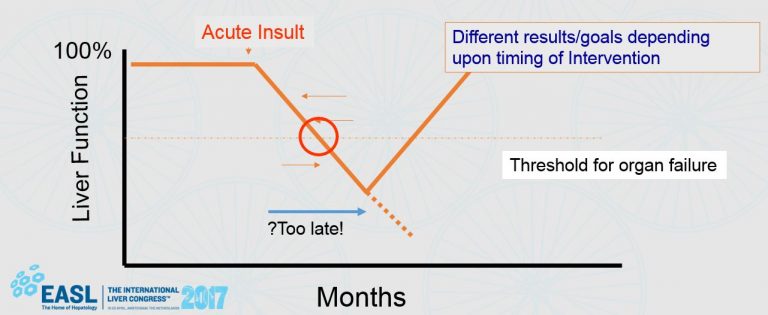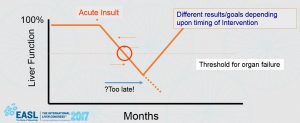 Fig. 1 – Potential for reversibility
Prof. Jalan explained that liver failure, whether of the acute variety with no pre-existing liver disease (acute liver failure (ALF)) or an acute episode of decompensation superimposed on a chronic liver disorder (acute on chronic liver failure (ACLF)), carries a high mortality. An ideal liver support system would provide many of the normal functions of the liver, be easy to use in clinical practice, have minimal complications, and not be prohibitively expensive.  During his presentation, Prof. Jalan noted that so far, the bioartificial liver systems have failed to live up to their initial promise and currently cannot be recommended for the treatment of patients outside of carefully controlled clinical trials.  Jalan et al. Gut (2004). "ALIVER is an opportunity to alter the course of the disease and a chance to change the patients' outlook on life," Prof. Rajiv Jalan, ALIVER Project Investigator.
A great time for devices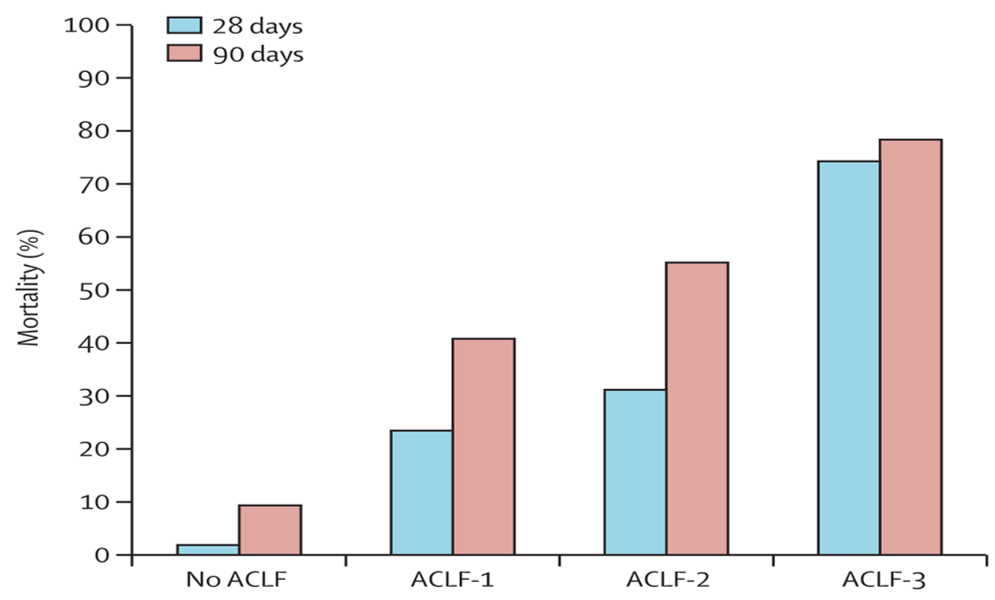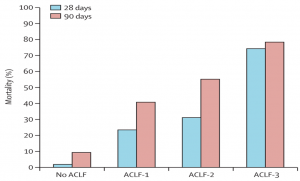 Fig. 2 – Mortality rate at 28 days and 90 days according to the grade of ACLF
Acute on chronic liver failure (ACLF) is a syndrome in patients with chronic liver disease with or without previously diagnosed cirrhosis characterized by acute hepatic decompensation resulting in liver failure (jaundice and prolongation of the international normalized ratio), and one or more extrahepatic organ failures, that is associated with increased risk for mortality within a period of 28 days and up to 3 months from onset Jalan, et al. Gastroenterology (2014).
To learn more about the ALIVER project's extracorporeal liver support device (DIALIVE), click HERE.